Taco Salad Wraps
Taco Salad Wraps
Serves: 4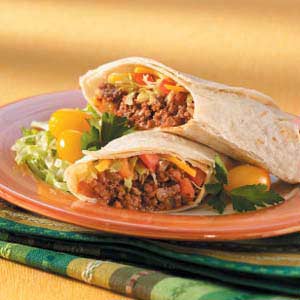 For the Dressing:
2 ripe avocados
2 tablespoons nutritional yeast
1/4 cup unsweetened soy, hemp or almond milk
2 tablespoons lime juice
1/2 teaspoon cumin
1/2 teaspoon chili powder, regular or chipotle
For the Wraps:
1 cup cooked red kidney or black beans or low sodium canned beans, drained
4 (100% whole grain) flour tortillas
1 cup frozen corn kernels, thawed
4 plum tomatoes, chopped
2 cups shredded romaine lettuce
Blend dressing ingredients in a blender until smooth and creamy.
With a fork or potato masher, mash beans, leaving slightly chunky.
Spread desired amount of dressing on each tortilla and then top with bean mixture, corn, diced tomato and lettuce.
Fold up the bottom edge of the tortilla until it partially covers the filling, then fold in the left and right sides of the tortilla and roll up. Slice in half diagonally.
Note: Leftover Avocado Dressing can be refrigerated and saved for another use.